Boundary Ranch ~ Darby and Sarah Delorme

Box 36, Robsart, Sk., S0N 2G0

Phone: (306) 299 - 2006 ~ Sarah's Cell: (306) 299 - 7779 ~ Darby's Cell: (306) 662 - 7993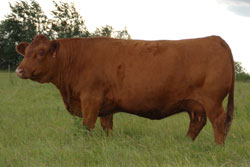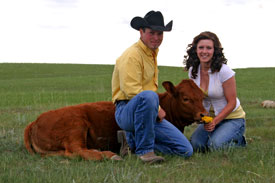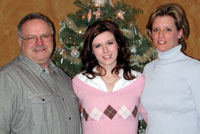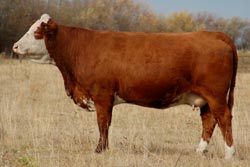 Sarah and the Simmentals


Sarah was raised on a mixed cropping, dairy operation near McLennan, Alberta called Kimlake Farms Ltd.  She and her parents Denis and Colleen Cloutier, along with some employees ran the Dairy side of the farm and her Uncles Gilles and Rick ran the grain side.  Kimlake began running Purebred Simmentals in 1996, and after much deliberation, the Dairy herd was dispersed in 1997 and the family became very serious about the Simmental Herd.
Above:  The Cloutier Family Denis, Sarah, and Colleen


The Simmental herd consisted of mostly Fullblood cows, but over the years, many Full Fleckvieh cows were purchased, and after a major purchase of 50 purebreds from Lewis Farms Ltd, Kimlake was in the red and black business. 

Sarah worked at Lewis Farms the summer of 2000 to get a little extra money for school and low and behold, instead of coming back home with a check, she came back with the prettiest little red heifer you ever did see.  Ken gave her the pick of the heifer pen and her first heifer purchase, LFE Calyna 645K turned into a great cow.  Her 2006 calf is Ward 86S, one of the Junior Herdsires at Kimlake Farms.
Above:  LFE Calyna 645K, Sarah's first Simmental purchase


Sarah purchased 5 cows in the fall of 2000 as an investment towards her further education at Olds College.  She carefully selected and purchased the cows from the many Full Fleckvieh herds dispersing that Fall with a $20 000 loan.  The cows turned out to be a very good investment;  those cows paid for the loan, her schooling, and of course a little fun along the way!
To the Right:  Kimlake Gabi 314N, progeny from one of the five cows Sarah bought that fall MRLN Valaria, a daughter of the great Gabi cow.


Sarah completed her University education in 2005 and received her degree in Animal Science from the U of A in 2006.  Sarah and Darby were engaged on December 18th, 2005 and married July 21st, 2007.  Darby knew that Sarah would hardly move down to Saskatchewan without her cows so they compromised and Sarah traded her dad her full Fleckvieh Simmental cows for some Red and Blacks.  They hoped this would possibly be less of a shock to Darby's parents the STRAIGHT Black Angus breeders.   In September 2006 ten cows, five breds, and ten heifer calves were introduced to the Robsart area ranch.  Today there are around 70 head of purebred Simmentals in their pastures and the cattle and the couple are doing quite well.
Above:  Darby, Sarah, and their resident pest Reggie 8T

Darby and the Angus


Darby Delorme is the fourth generation to breed commercial Black Angus (est.1948) and third family generation raising purebred Black Angus (est.1963).  It all started with eight purebred Black Angus females his great grandfather purchased, some of the first in southwest Saskatchewan.  Conditions can be extreme in the southwest corner where the ranch is located; there are no natural trees to the area and conditions make it only hospitable to hard shortgrass, sage, and cactus.  The choice was fairly simple back then to raise the hardy Black Angus breed, and from there the family tradition grew.




Above Left:  Darby's parents, Connie & Don Delorme.  Above Right: Kalee & Shawn Barnard (Darby's Sister) and their children Oskar, Aeverie and Neveah.  Not pictured Ole.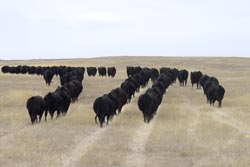 Above:  Some of the Commercial cows



Today, the family commercial female herd runs around 450, fifty of which are owned by Boundary Ranch, and there are around 150 purebred Black Angus females, 60 of which are also owned by Boundary.   Darby's herd of commercial and purebred Black Angus originated from both his grandparents and parents herds; they were acquired by trade for family farm work and his numbers are slowly climbing every year.

Darby's parents, Don and Connie Delorme of South Shadow Angus and Paints also raise Paint Horses, for the practical purpose of running cattle and also to be sold.  Approximately sixty paint and quarter horses currently run on the rugged land base and these horses are offered for sale by private treaty.

Darby started out in cattle at a very young age with 4-H beef, but he has had lots of other 4H projects over the years.     He and his sister Kalee eventuallly started showing their parents registered Black Angus at local and national shows.  In his teenage years he gave many clipping, fitting, and showing demonstrations to other 4-H kids, and to this day he enjoys doing demonstrations and some judging when he can.  Although partial to their Angus cows, Darby believes that there is no such thing as the "perfect breed" and he knows that the first cross of two pure breeds gives maximum heterosis.


The family now has enough straight Black Angus commercial females to run two commercial herds: one to keep straight Black Angus used and sold as replacements to other commercial cattlemen and the other to cross with their purebred Simmental Bulls for high grading feeders.   They believe that the cattle should do the work for you and not the other way around, and as such, they don't treat their purebred herd any different than their commercial herd during most of the year. Good news for any commercial or purebred cattleman who has or is planning to purchase a Boundary Ranch Bull calf.

Darby and Sarah sell a selection of their purebred Simmental bulls at the Southwest Showcase Bull Sale at the end of March each year at Heartland Livestock, Swift Current, Sk.  The remainder of the Simmental bulls and Sim x Angus bulls sell by private treaty at the farm.    All of the Registered Black Angus Bulls sell in the families "Your Choice" Bull Sale beginning of April, each year. Visit Boundary Ranch in the extreme south-west corner of Saskatchewan, where they are more than happy to show you around.

Above:  Darby and his trusty horse Major pulling in a calf to be wrestled at our branding at the beginning of June